CareCloud Reviews
Value for the money
8.0/10
Pros
Predictable monthly pricing.
Integrates practice management and revenue cycle management.
Drag and drop scheduling.
The CareCloud Command Center offers a dashboard of key metrics.
Technology driven.
Cons
"Grew too big, too fast"* – Although CareCloud claims this issue is behind them now.
CareCloud was acquired by MTBC in 2020 and any transition issues or new changes of yet to be seen.

CARECLOUD REVIEWS
How would you rate CareCloud EHR? How is the customer support? Is it user friendly? What are the pros and cons? We provide CareCloud reviews based on crowd sourcing to help in your search for the best EHR to fit the needs of your practice.
WHAT SETS CARECLOUD APART FROM OTHER EHRS?
Initially tailored for small medical practices, CareCloud has transformed through technology into an EHR solution suitable for practices of all sizes.
Distinguished by its commitment to exceptional patient care, Care Cloud stands out in high patient engagement solutions. A testament to this is their interactive click-to-chat technology showcased on their website, reflecting their leadership in the EHR industry.
They introduced the CareCloud Command Center, a dashboard displaying key performance metrics, aiding practices in realizing their maximum potential.
Additionally, their U.S.-based support team is a notable advantage, ensuring localized assistance.
With CareCloud's RCM experts, personalized advice, robust analytics, and comprehensive medical billing services, it becomes an indispensable consideration for any healthcare practice.
CARECLOUD ACQUIRED BY MTBC, A MEDICAL BILLING COMPANY
For an undisclosed amount, MTBC acquired CareCloud in January of 2020. MTBC offers medical billing services, practice management and EHR software. Adding CareCloud to their suite of products appears to be a great fit. Hopefully being backed up MTBC will only add more value to their products and services which is beneficial for their customers.
PRACTICE MANAGEMENT & REVENUE CYCLE MANAGEMENT
CareCloud goes beyond traditional EHR offerings by providing cloud-based solutions that include Revenue Cycle Management (RCM) and Practice Management services. The recent acquisition by MTBC, a specialist in medical billing and practice management, is expected to enhance these services further.
The CareCloud Concierge solution shifts the focus from providers to patients by offering modern RCM software combined with real-time analytics and a specialized back-office team. Moreover, this approach aims to improve practice profitability, ease administrative burdens, and adapt to industry changes.
Through a partnership with First Data, Care Cloud introduces Breeze, a patient experience management platform integrated with their practice management and EHR solution, thus enhancing patient engagement and intake management.
Additionally, they boast an extensive library of over 180 million automated billing rules named CollectiveIQ, boasting a remarkable 97% composite resolution rate.
ANALYTIC SOLUTIONS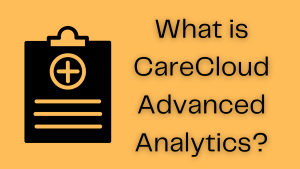 For practices seeking data-driven decision-making, CareCloud Advanced Analytics is the answer. With Key Performance Indicators (KPI) dashboards, this solution offers transparent insights regardless of practice size. Users can analyze trends comprehensively or in-depth, segmenting data by location, biller, payer, provider, and more.
The solution not only provides valuable insights but also presents data in visually appealing charts and graphs, catering to diverse analytical needs.
CARECLOUD PRICING
Looking for more information on CareCloud pricing? Be sure to understand of all of the costs and fees.
It is recommended for a medical practice to compare quotes from several vendors to ensure you are getting the fairest EHR price.
CARECLOUD: EVALUATING THE ADVANTAGES AND DRAWBACKS
In addition to the CareCloud reviews provided earlier, we've compiled a summary of its pros and cons:
Pros
Predictable Pricing: CareCloud offers transparent monthly pricing, providing budget predictability for users.
Integrated Management: The platform seamlessly integrates revenue cycle management and practice management, streamlining operations.
User-Friendly Scheduling: Users can benefit from the convenience of drag and drop scheduling, enhancing efficiency.
Dashboard Insights: CareCloud's Command Center presents a dashboard with essential metrics, aiding in informed decision-making.
Technology Focus: The company places a strong emphasis on technology, aligning with modern healthcare trends.
Cons
Rapid Growth Concerns: There were previous concerns about CareCloud growing too quickly, although they claim to have addressed this issue.*
Transition Impact: Following its acquisition by MTBC in 2020, potential transition challenges and changes in the platform are yet to be fully observed.
Lastly, these insights are drawn from both available CareCloud reviews and pertinent industry information.
* https://www.glassdoor.com/Reviews/CareCloud-Reviews-E430646.htm
** https://www.crunchbase.com/acquisition/mtbc-acquires-carecloud–bd331037
Information and insights from carecloud.com and crowd sourced.