MediTech Reviews
Service and Support
7.8/10
Value for the Money
7.8/10
Pros
Dependable. MEDITECH has been at 85% of its sites for over 10 years.
MEDITECH is an award winning EHR.
Known for interoperability solutions that show their innovative approach.
Lots of flexibility and customization.
Simplicity is MEDITECH's middle name.
Cons
The user interface may appear old school.
Lack of features (which its simplicity can also be a Pro).
MEDITECH updates have been known that they may cause issues.
MEDITECH CHARTING REVIEWS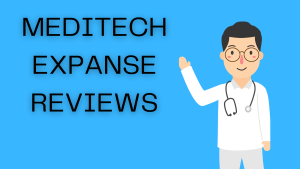 Looking for MediTech Charting Reviews? Interested in the pros and cons of MEDITECH? Is it an easy-to-use EHR solution? Read our MEDITECH reviews that are crowdsourced.
WHAT MAKES MEDITECH DIFFERENT?


The world is changing. Healthcare is changing. And MEDITECH is there to evolve with the needs of your organization.
Their Cloud Platform can be used by any size organization. MEDITECH charting also provides solutions for a variety of medical specialties including Home care, Oncology, Surgical Services, and more.
Known for their interoperability solutions, they continues to offer innovative and transformational solutions.
For example, MEDITECH Greenfield is an app development environment (a testing ground) that is supported by RESTful APIs, including FHIR.
Lastly, they are an award winning EHR. They were awarded KLASS 2022 as a top performer for Overall Software Suite, Ambulatory EMR (>75 physicians), and Acute EMR (Large/IDN).
MEDITECH EXPANSE: A WEB-BASED EHR WITH MOBILE CAPABILITIES
Expanding beyond its role as an Electronic Personal Record (EPR), MEDITECH Expanse stands as a comprehensive Electronic Health Record (EHR). It is designed to foster collaboration among physicians and nurses, enhancing care coordination.
A distinctive feature is the Expanse Virtual Assistant which enables voice commands for seamless interaction without physical contact. Additionally, Expanse Now facilitates secure remote access. This empowers physicians to communicate and coordinate care using smartphones or tablets. For nurses, Expanse offers tools like Point of Care and Patient Care, ensuring timely interventions.
A GLOBAL EHR: MEDITECH UK & MORE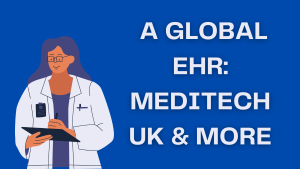 MEDITECH's influence as a global Electronic Health Record (EHR) provider is evident through the widespread adoption of its Expanse EHR system. This technology solution is proving invaluable in meeting the complex healthcare demands of an ever-evolving global landscape.
MEDITECH's global presence extends beyond the United States, encompassing countries across different continents. Notably, the United Kingdom (UK), Ireland, Canada, the Middle East, South Asia, Asia Pacific, and Africa have embraced MEDITECH's Expanse EHR to enhance patient care and streamline healthcare operations.
In the United Kingdom (UK) and beyond, healthcare organizations have recognized the efficacy and adaptability of MEDITECH's Expanse EHR in addressing diverse healthcare challenges. And this extends to Ireland, Canada, and regions across the Middle East, South Asia, Asia Pacific, and Africa.
Moreover, by implementing the Expanse EHR, these organizations are equipping themselves with a technology solution that meets the dynamic requirements of modern healthcare.
Lastly, MEDITECH's global reach underscores its commitment to provide healthcare solutions that transcend geographical boundaries.
MEDITECH AS A SERVICE (MaaS) and PROFESSIONAL SERVICES:
MEDITECH offers an extensive range of services to cater to the needs of medical practices of all sizes. The MEDITECH as a Service (MaaS) model and its Professional Services encompass a wide spectrum of offerings, ensuring comprehensive support for various operational aspects.
From Business and Clinical Analytics & Data Repository Services that facilitate data-driven decision-making, to Quality Improvement Services that enhance patient care standards, MEDITECH provides an array of solutions.
PROS AND CONS OF MEDITECH CHARTING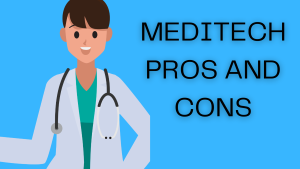 Understanding the advantages and disadvantages of MEDITECH is crucial for making informed decisions. To complement the MEDITECH reviews provided earlier, here's a summary of its pros and cons:
Pros:
Dependability: MEDITECH's consistent presence in 85% of its sites for over a decade underscores its reliability.
Award-Winning: MEDITECH has received recognition as an award-winning EHR provider, validating its quality.
Interoperability Solutions: They are renowned for its innovative approach to interoperability, fostering seamless data exchange.
Flexibility and Customization: The platform offers ample flexibility and customization options, adapting to diverse workflows.
Simplicity: They excel in offering an intuitive and straightforward user experience.
Cons:
User Interface: Some users may find the user interface to have an old-school appearance.
Feature Limitations: While the simplicity is an advantage, it might lead to perceived limitations in terms of features.
Update Challenges: Instances of MEDITECH updates causing issues have been reported, impacting user experience.
Finally, these insights are drawn from both meditech.com and crowd-sourced information, providing a comprehensive view of MEDITECH's strengths and areas for improvement. It's important to carefully consider these factors when evaluating the suitability of MEDITECH charting for a healthcare practice.