Best EHR Solutions
What is the Best Fit for Your Practice?
Are you looking to switch your practice's EHR? Do you need something both affordable and user-friendly? Or are do you need a robust EHR system that includes practice management, medical billing services or telemedicine? How much do EHR systems cost?
With over a thousand EHR solutions on the market,  EHR Guide can help you cut through the clutter and provide only the best EHR solutions in the industry that will be a fit for your small to mid-sized medical practice.
The Leading EHR Options
Acumen EHR – A market leading EHR solution for nephrology.
Allscripts EHR – An "Open-platform solution" that drives care coordination and allows you to work smarter.
Athenahealth EHR – They use a patented Billing Rules Enginesm that gets claims paid faster and increase your revenue.  They are recognized by KLAS as #1 for ease of use1.
Carecloud EHR – Easily customized EHR and practice management solution for high-growth practices.
Cerner EHR – An ambulatory EHR designed to "minimize clicks, provide comprehensive yet flexible documentation, and automate reporting processes for your business."2
DrChrono – An EHR solution to allow you the ability to focus on practicing medicine, not administration.
eClinicalWorks EHR – They offer improved workflow and it is customizable by physician. They also offer a practice management solution to streamline the entire process.
EHR Your Way – An EHR for behavioral health founded in 2008 by two physicians looking to solve the pain points of users.
Elation Health – With a focus on primary care, Elation Health is competitively priced and boasts great reviews.
Epic EHR – Probably the most widely used EHR available. Epic is the "information backbone" for many large healthcare systems, although Epic can also be tailored for small to mid-sized practices too.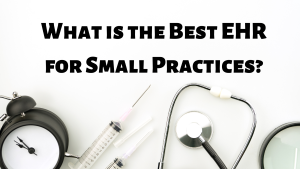 Greenway Health EHR – Developed by software teams that include physicians, nurses and medical professionals, Greenway offers an interoperable solution that practices want to use.
Hello Health EHR – An EHR and practice management solution, Hello Health also focuses on patient engagement and telemedicine.
ICANotes EHR – A Behavioral Health EHR designed by a psychiatrist.
iSalus EHR – An innovative technology provider of healthcare software and services.
Kareo EHR – Once free, Kareo now charges an affordable monthly fee for their EHR that they promote as "easy and integrated". Also worth noting, Kareo offers add-on services such as billing, marketing and more. These add-on services help create Kareo's product differentiation.
Medgen EHR – They promote an easy set-up along with a "no maintenance" needed for the physician.  Medgen also offers revenue cycle services, practice management, billing and more.
MEDITECH EHR – MEDITECH Expanse is a mobile, web-based EHR.
Nextech EHR – An EHR for four areas of specialty medicine – plastic surgery, dermatology, ophthalmology and orthopedics.
NextGen EHR – Electronic medical record and Practice Management system to help practices "transform to and succeed in value-based care".
Summary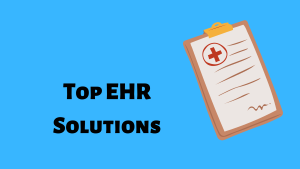 Article Name
Description
Find out more about the top EHRs in the industry. Check out features from the best EHR companies. And compare price quotes.
Publisher Name
Publisher Logo