Cerner Reviews
Value for the money
8.1/10
Pros
They are a powerhouse in the industry with high profile clients such as the DoD.
Provides strategic consulting for practices transforming to value-based care.
Has tight integration with revenue cycle solution.
Offer both on-site and off-site hosting.
Offers advanced analytic packages allowing clients to use predictive analysis.
Cons
The need for too many clicks to perform an action have been reported.
Cerner is a very thorough solution which can lead to a higher learning curve for users.
CERNER REVIEWS

How would you rate Cerner EHR? Is it user friendly? How is the support? What are the pros and cons? We provide Cerner reviews based on crowd sourcing to help in your search for an EHR.
CERNER DIFFERENTION
In order to differentiate themselves from other EHRs, they focus on three main areas including:
A meaningful patient experience
Favorable clinical documentation tools
Tight integration around revenue cycle management (RCM)
Let's call a duck a duck. Today's healthcare system is very complex and can be challenging for small or independent practices to transform into value-based care. Cerner provides strategic population health advisory services to assist small practices to navigate the transition.
Cerner Health also offers performance improvement, strategic advisory services, revenue cycle management, community care management, practice management, wellness and scorecards and registries.
As a result of a long list of high-profile customers, Cerner charting system has bragging rights to be one of the most prominent companies in the EHR industry.
Finally, as shown in Cerner Reviews, they are a leader in technology and innovation. They encourage innovators to build technology to "advance the health care industry through improved interoperability capabilities" through the Cerner Open Developer Experience (code).
WHAT SIZE MEDICAL PRACTICE IS CERNER POWERCHART FOR?
Cerner PowerChart EHR is ideal for any sized medical practice and is a popular option. It is a leading solution in the Specialty EHR space as it can support over fifty medical specialties.
Alongside Cerner PowerChart, they offer Cerner Millennium which is geared towards healthcare providers at the enterprise level. In addition they offer CareTracker for assisted living facilities and long-term care.
Are you a small to mid-sized medical practice? Make sure that Cerner charting system is on your short list of EHR considerations.
PRACTICE MANAGEMENT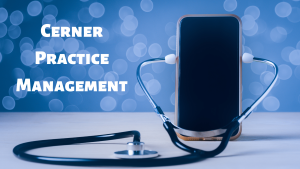 Cerner offers a couple different Practice Management solutions based on the practice size, including:
Specialty Practice Management Solution – Ideal for small and mid-sized medical practices with ten or less providers.
PowerWorks Practice Management Solution –  This is perfect for large-sized medical practices and billing services companies.
DOES CERNER OFFER REVENUE CYCLE MANAGMENET SOLUTIONS?
Often medical practices want to spend more time with patients which means they need to reduce the amount of time they spend on operations. Based on the size of your organization or practice, they can provide solutions for billing, reimbursement and accounting processes including:
RevWorks for Clinics
RevWorks for Hospitals
CERNER'S SUPPORT AND TRAINING
Cerner offers a support model called Cerner Client Care that will "enable caregivers to correspond and communicate with other providers, clinicians and patients." This helps medical practices provide first class service to their patients.
Providing a variety of options, Cerner wants to make it easy for customers to connect with them:
Cerner Status Dashboard to view the current status of Cerner's solutions and services.
Project Portal that is used to coordinate resources and decisions around your project.
Call the support phone line or use the eService portal that is available 24/7/365.
uCern which is a suite of social collaboration tools.
Cerner's Model Experience that is an assembly of strategic recommendations to leverage Cerner solutions to optimize client workflow.
Cerner's Client Applications
Lights On Network which provides enterprise-level data analytics
CERNER PRICING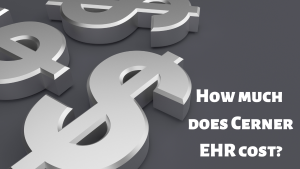 How much does Cerner charting system cost? Be sure to understand all of the costs associated with implementation as well as ongoing fees.
We recommend that your practice compare quotes from several EHR companies to make sure your getting the best price.
CERNER PROS AND CONS
Make sure to understand the advantages and disadvantages of Cerner Health. In addition to the Cerner reviews above, we summarized their pros and cons:
PROS
They are a powerhouse in the healthcare space and have very high profile customers such as the Department of Defense.
Cerner provides strategic consulting to help practices transform to value-based care.
Cerner EHR is integrated with its revenue cycle management (RCM) solutions.
They offer both off-site and on-site hosting.
Cerner health provides advanced analytic packages so customers can leverage predictive analysis.
CONS
Because Cerner is a very robost system, it could lead users to have a high learning curve.
It has been reported that there is a need for far too many clicks to perform an action.
Information and insights from www.cerner.com and crowd sourced.