eClinicalWorks Reviews
Value for the money
8.0/10
Pros
Virtual visits through their own telemedicine application called Healow – no need for 3rd party application.
Known to offer free conversion packages for new clients looking to transition away from another EHR.
Initial onsite training included for small practices.
High degree of customization. Ideal for small practices.
eClinicalWorks is a technology driven organization. All their technology was developed in-house and functions as one system.
Cons
Involved in a false claims whistleblower case that eCW settled with the US government for $155M.
Inefficiencies in their ticketing support system is a common thread with users.
Some technology support is located overseas causing the possibility of difficult communication.
ECLINICALWORKS REVIEWS
What would you rate eClinicalWorks (eCW)? How is their customer support? Is eCW user-friendly? What are the pros and cons of eClinicalWorks? We provide eClinicalWorks reviews based on crowd sourcing to help assist in the search for an EHR that best fits the needs of your medical practice.
WHAT MAKES ECLINICALWORKS DIFFERENT FROM OTHER EHRS?
Founded in 1999, eClinicalWorks is an EHR company with deep experience.
eClinicalWorks takes pride in developing all of its own tech as opposed to acquiring the technology through other EHR acquisitions. This makese eCW into one extremely strong, cohesive system.
They are a technology driven company. Because of the confidence in their technology, eCW counts on their actual product solution (not advertising and marketing) to sell itself. As an example, eClinicalWorks offers a dependable telehealth solution that has become a staple offering.
Finally, eCW provides tools and solutions for medical practices to reinvent themselves as well as for those looking to start from scratch and open up a new practice.
DOES ECLINICALWORKS PROVIDE TELEHEALTH?
Many EHR companies need to offer third-party telemhealth solutions, but eCW has developed their own called Healow. It shows a 4.6 out of 5 stars in the Google Play Store with over 5 million downloads and almost 100 thousand Healow reviews for its telemedicine app.
Healow provides patients access to their patient data. It also allows them to communicate with their physician's office. Healow has a "mom" version for expected mothers who desire a higher level of engagement.
eClinicalWorks offers Healow to it customers but they also sell it to anyone looking for a strong telehealth solution. Medical practices don't need to use the cClinicalWorks EHR in order to use their telemedicine solution Healow.
Absolutely! And they take pride in the pricing they can offer. They claim due to their "technology and efficient processes and workflows, eClinicalWorks is redefining the status quo of the medical billing industry."
They offer medical billing services at 2.9% of monthly collected revenue which is much better than some external billing services which charge anywhere from 5% to 12% off the bottom line.
ECW'S COMMITMENT TO INTEROPERABILITY
Starting in 2016, the collaboration between CommonWell and Carequality was intended to expand the reach of both of the networks to help progress the standardization of the health data exchange. eClinicalWorks helps support that progress.
eClinicalWorks renewed their commitment to interoperability back in 2019 with both the Carequality Interoperability Framework and the CommonWell Health Alliance networks.
eCW provides CommonWell services to its customers that assists in them being able to deliver top care. And with their relationship to the Carequality Interoperability Framework, eClinicalWorks can ensure its providers have the most accurate and complete patient data at the point of care.
eCW Pricing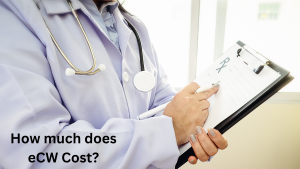 How much does eClinicalWorks cost? eClinicalworks pricing is very competitive. Make sure to understand all the product features and the available options to see what eCW pricing actually includes.
We recommend you compare quotes from various EHRs to ensure your medical practice gets the best price.
PROS AND CONS OF ECLINICALWORKS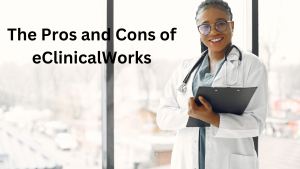 It is crucial you understand both the advantages and disadvantages of eCW. Along with eClinicalWorks reviews, we have summarized their pros and cons:
Key Pros
eClinicalWorks provides virtual visits through its own telemedicine app called Healow, so you don't need a 3rd party telemedicine app.
Known to offer potential new clients with free conversion packages to transition away from another EHR.
Initial onsite training is included for small medical practices.
Ideal EHR solution for small practices because of their high degree of customization.
As a technology driven company, all of eClinicalWorks tech was developed internally and it functions as one comprehensive system.
Key Cons
Once involved in a false claims whistleblower case which was settled with the U.S. government for $155M.
A common thread with users is eCW's inefficiencies with their ticketing system for support.
It appears taht some of their technology support may be located overseas, which could be a cause for communication concerns.
MORE INFORMATION ON ECLINICALWORKS:
Insights and information from www.eclinicalworks.com and crowd sourced.