ATHENAHEALTH EHR OVERVIEW
Founded in 1999, athenahealth has over 6,000 employees and is used by over 100,000 providers. Athenahealth EHR is an intuitive, robust solution that focuses on innovation and technology to deliver "optimal information with minimal distraction, and never get in the way of care."
Athenahealth has a broad list of product offerings such as collections, sorting all incoming faxes, data entry, and more. This helps providers spend less time on administration duties and more time on patient care.
Also, the Marketplace by Athenahealth vastly expands their solutions by offering 3rd party apps that work in tandem with their EHR. The Marketplace truly positions athenahealth as a disruptor in the EHR industry.
WHO USES ATHENAHEALTH EHR?
Athenahealth EHR is used for various size practices from small independent ones, all the way up to large hospital systems. They have a variety of awards from KLAS for different sized practices.
They are used by over 100 different specialty practices across all 50 states proving themselves to be very adaptable.
ATHENAHEALTH FEATURES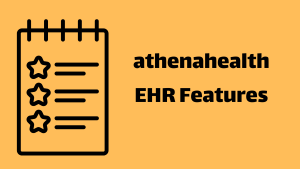 Between the 3rd party applications from their Marketplace as well as their own technology, athenahealth provides a broad menu of offerings.
Additionally, they continue to enhance their workflow based on insights from the best practices from their top-performing clients. The top features of athenahealth are:
Patient portal
AthenaCommunicator – Patient engagement services
Orders and ePrescribing
Clinical intelligence via Epocrates app
Dedicated service teams (e.g. Clinical Intelligence team)
Meaningful Use reporting
Population Health Services
Revenue Cycle Management (RCM)
Practice Management
PQRS Quality guarantee
Guaranteed quality program through Merit-Based Incentive Programs (MIPS)
More Disruption Please (MDP) program
DOES ATHENAHEALTH PROVIDE PRACTICE MANAGEMENT SERVICES?

Likely their strongest selling point, athenhealth offers practice management services with proven results. They pride themselves with a track record of practices getting paid 32% faster and that they are able to resolve 94% of their claims on the 1st attempt.
According to their website they provide:
Updates to our workflow are made for free, in advance of industry change like the ICD-10 transition, without the need for costly add-on modules."
"Low up-front costs: you never pay for software licenses, installations or upgrades.
There are no fees, and no disruptive upgrades
IS ATHENAHEALTH CERTIFIED FOR MEANINGFUL USE?
Definitely, yes. Their Quality Management Engine makes it easier for practices to achieve quality measures with very little disruption to their workflow. Athenahealth tracks performance and also provides coaching.
DOES ATHENAHEALTH OFFER REPORTING FOR PQRS?
Absolutely. They claim that 99% of clients were able to avoid PQRS penalties.
WHAT KIND OF TRAINING AND SUPPORT DOES ATHENAHEALTH OFFER?
Athenahealth puts a focus on support through their value cloud-based services such as collections (including free coaching) and they have a Client Service Center (CSC) to field general questions and issues. This support is essential, especially during a migration.
WHAT MAKES ATHENAHEALTH DIFFERENT?
Designated a "disrupter" in the EHR industry, athenahealth pricing provides value based on their technology focus. They placing a significant attention to innovation and they continue to provide their customers with:
Marketplace for third party solutions with full integration capabilities
Initiatives such as the "more disruption please" (MDP) program
Performance driven data analytics
CHECK OUT OTHER TOP EHR SOFTWARE
Information cited from www.athenahealth.com
Summary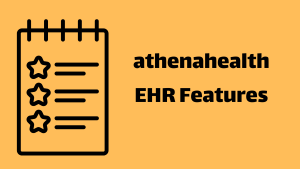 Article Name
Athenahealth EHR Overview
Description
Athenahealth EHR is a robust solution focused on technology. They offer a broad base of offerings making it an ideal option. Compare quotes.
Publisher Name
Publisher Logo