MedGen Reviews
Value for the money
8.8/10
Pros
MedGen is easy to use
Helpful templates for various medical specialties
Cost-effective subscription model
Low onboarding costs
Cons
MedGen doesn't appear to have a focus on Telemedicine, which has become a must-have for practices. Will need to look for a 3rd party integration.
They missed out on an opportunity to position themselves as a thought leadership in the EHR market through leveraging their own blog (only a handful of posts exist as of time this was written).
Additional training costs apply.

MEDGEN REVIEWS
How would you rate MedGen? How is the support? Is it user friendly? What are the pros and cons of MedGen? We provide MedGen reviews based on crowd sourcing to assist you in your search for a new EHR.
WHAT MAKES MEDGEN DIFFERENT?
Brought to you by Comtron Corporation, MedGen promotes its EHR as "easy to learn and use". The EHR market is crowded with lots of options. And MedGen tries to stand apart from their competition by providing an affordable user-friendly solution.
Although even with its low cost, MedGen provides embedded meaningful use, PQRS and accountable care reporting. They offer process improvement strategies to assist practices in becoming more effective. Moreover, they have a mobile app with voice dictation by Nuance.
You can book a demo with MedGen right from their website. You will need to provide your information in an online form and they will reach out to set something up. This will give you the opportunity to see if MedGen fits the needs of your practice.
DOES MEDGEN PROVIDE SPECIALTY MEDICINE SOLUTIONS?
Yes for sure! MedGen provides a standard EHR along with an OB/GYN EHR and Addiction Medicine EHR. They also offer templates for other specialties.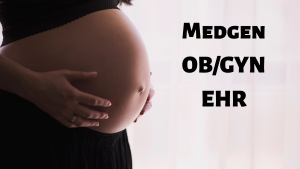 The MedGen OB/GYN EHR is be a solid contender for any OB/GYN specialty practice searching for a new EHR solution.. They claim their "powerful care plans implemented in the system will guide you through high risk pregnancies and lets you manage and reduce the liabilities associated with such cases."
Their OB/GYN EHR solution offers a ton of top features such as electronic antepartum forms, built-in EFW graphs, EDD Calculator, standard care plans for high risk pregnancies, and much more.
The MedGen Addiction Medicine EHR allows a practice to offer inventory management and infusion pump dispensing. It can assist your practice to easily manage telemedicine appointments, run drug screening panels and schedule group meeting.
MEDGEN MEDICAL BILLING SERVICES AND PRACTICE MANAGEMENT
MedGen goes beyond just an EHR solution. You can also get Practice Management and medical billing services. Additionly, their parent company Comtron Inc. offers a variety of other solutions and services that may be of interest to your practice:
Operational Efficiency
Lean Practice Workflow Solutions
Revenue Cycle Analysis and Services
Professional Services
Lastly, their offerings expand into the Medical Laboratories market with its Labgen LIS. Labgen LIS is a fully integrated Laboratory Information System that provides billing services and more.
WHAT DOES MEDGEN EHR COST?
MedGen offers a subscription fee model that starts at $300 a month. Compare quotes from several EHR vendors.
PROS AND CONS OF MEDGEN
What are MedGen's advantages and disadvantages? Along with MedGen reviews, we summarized their pros and cons:
KEY PROS
Most importantly, MedGen is easy to use.
There are templates for a variety of medical specialties.
Offers a cost-effective subscription model.
MedGen's onboarding costs are low.
KEY CONS
MedGen has placed little focus on Telemedicine, which has become a must-have for practices. You will need a 3rd party integration.
Have only published a handul of posts on their website blog, missing an opportunity to position themselves as a thought leadership in the EHR market.
Extra training costs may apply.
MORE INFOMATION ON MEDGEN:
Insights and information from Medgenehr.com and crowd sourced.